Standard linear guideway are designed with load capacity and rigidity higher than other similar product with circular-arc groove and structure optimization. If features equal load rating, reverse radial and lateral direction, self- aligning to absorb the installation-error, and use and install easily.
Characteristics of G Series
With the design of DF circular-arc groove, G Series can absorb most installation errors due to surface irregularities and provide the smooth linear motion through the shift of contact points and the elastic deformation of rolling elements.
Four-way Equal Load the G Series linear guideway has equal load rating in the radial and lateral direction.
Optimal Design compact type linear guide have heavy load and anti- torque ability could extend life.
High precision interchangeability linear guideway made by sophisticated production process and quality control.
Common rail suit for heavy load type and compact type could reduce Inventory costs.
Excellent smooth reflux design could reduce the running vibration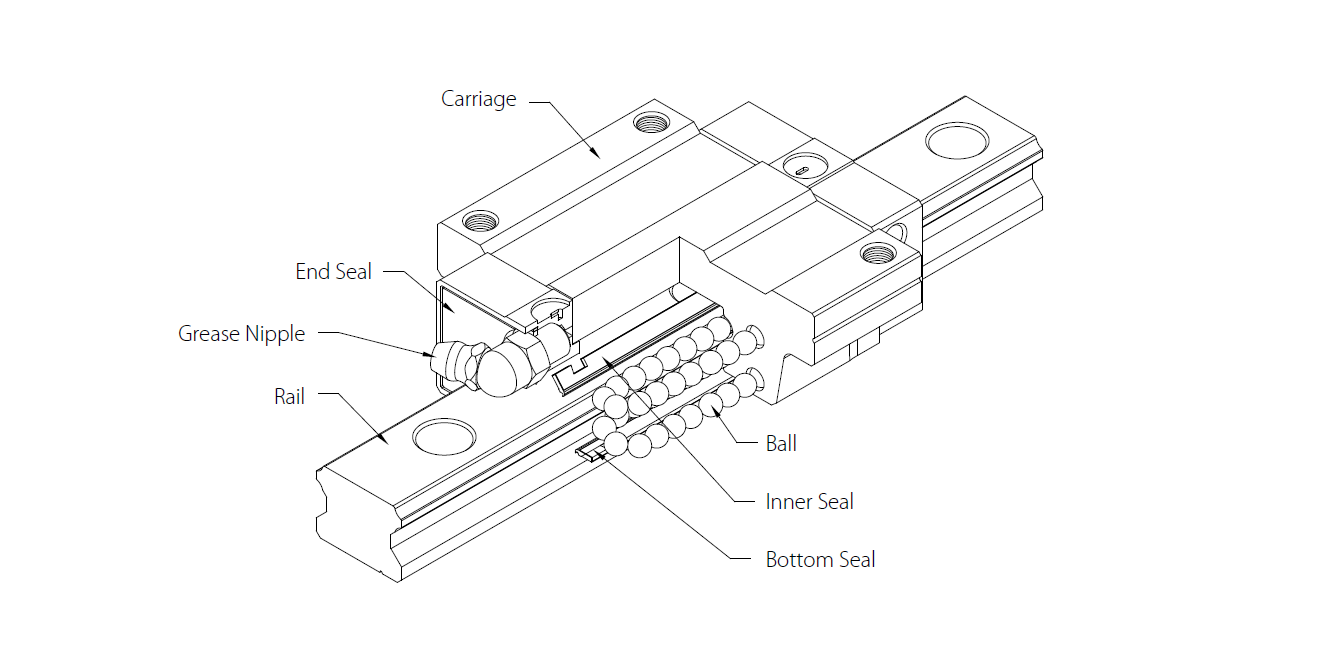 Description of Specification
A PLUS guideway can be classified into non-interchangeable and interchangeable types. The size is identical. The only difference between the two types is that the interchangeable type of blocks and rails can be freely exchanged, and their accuracy reach up to P class.
The model number of GA Series contains the size, type, accuracy, class, preload class, and so on.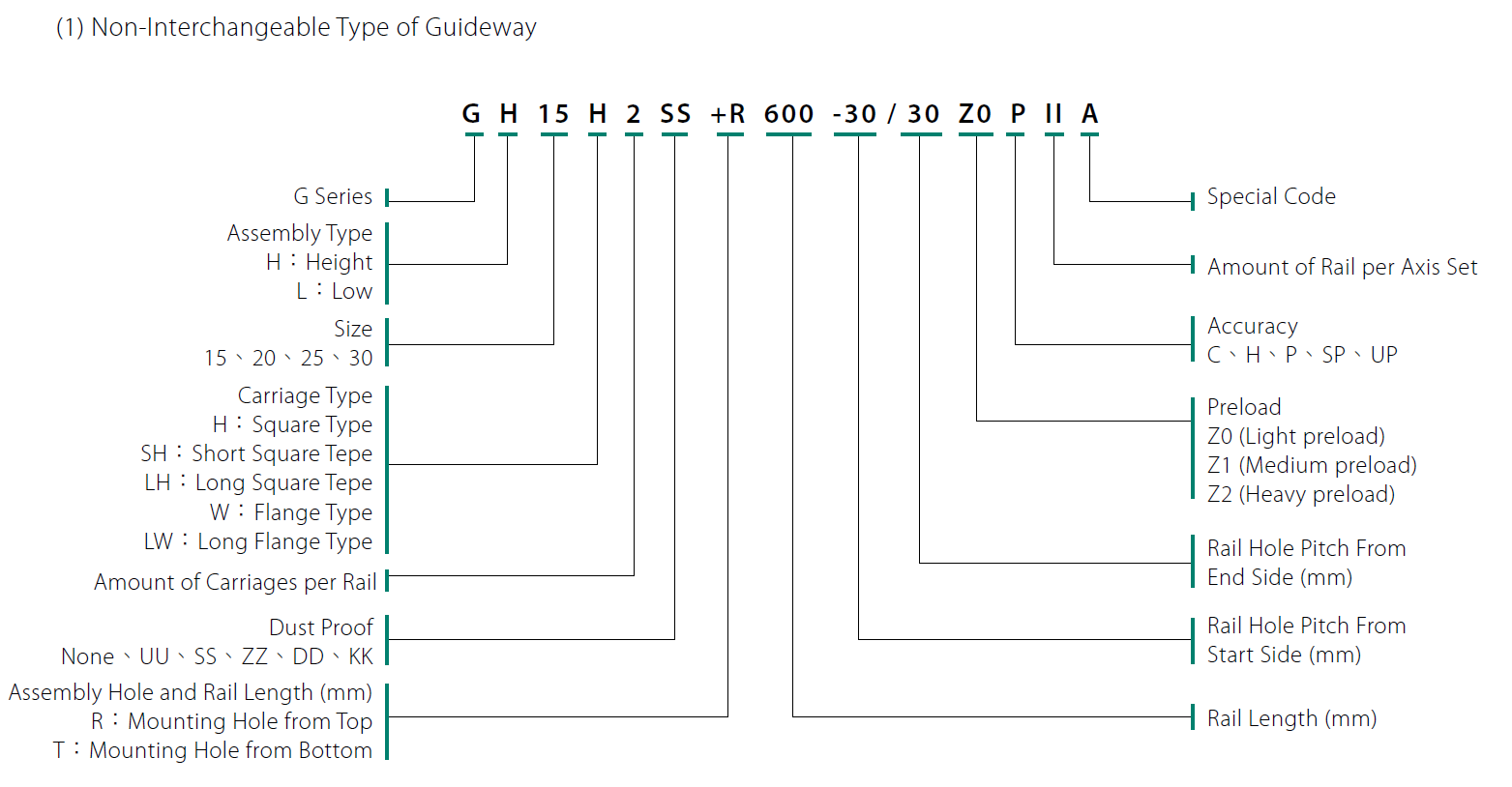 Dimension of GH-H
Dimension of GH-H
Assemble dimension
Basic load rating
Static moment rating
Weight
Hight
H
Width
W
Length
L
W1
J
Dynamic
C
KN
Static
C0
KN
MP(KN-m)
MY(KN-m)
MR
(KN-m)
Carriage
kg
Rail
kg/m
1*
2*
1*
2*
GH15H
28 
34
58.5
9.5
4.5
11.8
18.9
0.13
0.78
0.13
0.78
0.16
0.18
1.28
GH20H
30
44
72.2
12
4.5
19.8
31.9
0.28
1.64
0.28
1.64
0.32
0.32
1.9
GH20LH
30
44
86.2
12
4.5
22.5
38.6
0.43
2.33
0.43
2.33
0.39
0.39
1.9
GH25H
40
48
83.5
12.5
6.5
27.1
41.9
0.42
2.43
0.42
2.43
0.5
0.52
2.64
GH25LH
40
48
102.5
12.5
6.5
33.3
55.8
0.74
3.95
0.74
3.95
0.65
0.7
2.64
Model
Rail dimension
Carriage dimension
Width
WR
Hight
HR
Pitch
P
E std.
E
Hole dimension
D X h X d
B
C
M X L
L1
T
H2
H3
N
N1
N2
Grease
Nipple Size
GH15H
15
13
60
20
7.5x5.3x4.5
26
26
M4x7
39
7.5
9
8
5
10
3.5
M4x0.7P
GH20H
20
15
60
20
9.5x8.5x6
32
36
M5x7
50
10
8.5
7
12
11.5
4.5
M6x0.75P
GH20LH
20
15
60
20
9.5x8.5x6
32
50
M5x7
64
10
8.5
7
12
11.5
4.5
M6x0.75P
GH25H
23
18
60
20
11x9x7
35
35
M6x9
58.5
10
14.5
12.5
12
13.5
4.5
M6x0.75P
GH25LH
23
18
60
20
11x9x7
35
50
M6x9
77.5
10
14.5
12.5
12
13.5
4.5
M6x0.75P
Dimension of GL-H

Model
Assembly dimension
Basic load rating
Static moment rating
Weight
Hight
H
Width
W
Length
L
W1
J
Dynamic
C
KN
Static
C0
KN
MP(KN-m)
MY(KN-m)
MR
(KN-m)
Carriage
kg
Rail
kg/m
1*
2*
1*
2*
GL15SH
24
34
41
9.5
4.5
7.8
9.4
0.04
0.28
0.04
0.28
0.08
0.09
1.28
GL15H
24
34
58.5
9.5
4.5
11.8
18.9
0.13
0.78
0.13
0.78
0.16
0.15
1.28
GL20SH
28
42
47
11
4.5
11.4
14.5
0.07
0.5
0.07
0.5
0.13
0.14
1.9
GL20H
28
42
72.2
11
4.5
19.8
31.9
0.28
1.64
0.28
1.64
0.32
0.28
1.9
GL25SH
33
48
55
12.5
6.5
18.6
24.4
0.15
1.06
0.15
1.06
0.28
0.24
2.64
GL25H
33
48
83.5
12.5
6.5
27.1
41.9
0.42
2.43
0.42
2.43
0.5
0.39
2.64
Model
Rail dimension
Carriage dimension
Width
WR
Hight
HR
Pitch
P
E std.
E
Hole Dimension
D X h X d
B
C
M X L
L1
T
H2
H3
N
N1
N2
Grease
Nipple Size
GL15SH
15
13
60
20
7.5x5.3x4.5
26
-
M4x5
21.5
7
5
4
5
10
3.5
M4x0.7P
GL15H
15
13
60
20
7.5x5.3x4.5
26
26
M4x5
39
7
5
4
5
10
3.5
M4x0.7P
GL20SH
20
15
60
20
9.5x8.5x6
32
-
M5x7
24
8
6.5
5
12
11.5
4.5
M6x0.75P
GL20H
20
15
60
20
9.5x8.5x6
32
32
M5x7
50
8
6.5
5
12
11.5
4.5
M6x0.75P
GL25SH
23
18
60
20
11x9x7
35
-
M6x8
34.5
9
7.5
5.5
12
13.5
4.5
M6x0.75P
GL25H
23
18
60
20
11x9x7
35
35
M6x8
58.5
9
7.5
5.5
12
13.5
4.5
M6x0.75P
Dimension of GH-W
Model
Assembly dimension
Basic load rating
Static moment rating
Weight
Hight
H
Width
W
Length
L
W1
J
Dynamic
C
KN
Static
C0
KN
MP(KN-m)
MY(KN-m)
MR
(KN-m)
Carriage
kg
Rail
kg/m
1*
2*
1*
2*
GH15W
24
47
58.5
16
4.5
11.8
18.9
0.13
0.78
0.13
0.78
0.16
0.18
1.28
GH20W
30
63
72.2
21.5
4.5
19.8
31.9
0.28
1.64
0.28
1.64
0.32
0.39
1.9
GH20LW
30
63
86.2
21.5
4.5
22.5
38.6
0.43
2.33
0.43
2.33
0.39
0.48
1.9
GH25W
36
70
83.5
23.5
6.5
27.1
41.9
0.42
2.43
0.42
2.43
0.5
0.58
2.64
GH25LW
36
70
102.5
23.5
6.5
33.3
55.8
0.74
3.95
0.74
3.95
0.65
0.76
2.64
Model
Model
Carriage dimension
Width
WR
Hight
HR
Pitch
P
E std.
E
Hole dimension
D X h X d
B
C
M X L
L1
T
H2
H3
N
N1
N2
Grease
Nipple Size
GH15W
15
13
60
20
7.5x5.3x4.5
38
30
M5x7
39
7.5
9
8
5
8
3.5
M4x0.7P
GH20W
20
15
60
20
9.5x8.5x6
53
40
M6x10
50
10
8.5
7
12
9.5
4.5
M6x0.75P
GH20LW
20
15
60
20
9.5x8.5x6
53
40
M6x10
64
10
8.5
7
12
16.5
4.5
M6x0.75P
GH25W
23
18
60
20
11x9x7
57
45
M8x10
58.5
10
14.5
12.5
12
13
4.5
M6x0.75P
GH25LW
23
18
60
20
11x9x7
57
45
M8x10
77.5
10
14.5
12.5
12
22.5
4.5
M6x0.75P
Dimension of GH-H
Dimension of GH-H
Assemble dimension
Basic load rating
Static moment rating
Weight
Hight
H
Width
W
Length
L
W1
J
Dynamic
C
KN
Static
C0
KN
MP(KN-m)
MY(KN-m)
MR
(KN-m)
Carriage
kg
Rail
kg/m
1*
2*
1*
2*
GH15H
28 
34
58.5
9.5
4.5
11.8
18.9
0.13
0.78
0.13
0.78
0.16
0.18
1.28
GH20H
30
44
72.2
12
4.5
19.8
31.9
0.28
1.64
0.28
1.64
0.32
0.32
1.9
GH20LH
30
44
86.2
12
4.5
22.5
38.6
0.43
2.33
0.43
2.33
0.39
0.39
1.9
GH25H
40
48
83.5
12.5
6.5
27.1
41.9
0.42
2.43
0.42
2.43
0.5
0.52
2.64
GH25LH
40
48
102.5
12.5
6.5
33.3
55.8
0.74
3.95
0.74
3.95
0.65
0.7
2.64
Model
Rail dimension
Carriage dimension
Width
WR
Hight
HR
Pitch
P
E std.
E
Hole dimension
D X h X d
B
C
M X L
L1
T
H2
H3
N
N1
N2
Grease
Nipple Size
GH15H
15
13
60
20
7.5x5.3x4.5
26
26
M4x7
39
7.5
9
8
5
10
3.5
M4x0.7P
GH20H
20
15
60
20
9.5x8.5x6
32
36
M5x7
50
10
8.5
7
12
11.5
4.5
M6x0.75P
GH20LH
20
15
60
20
9.5x8.5x6
32
50
M5x7
64
10
8.5
7
12
11.5
4.5
M6x0.75P
GH25H
23
18
60
20
11x9x7
35
35
M6x9
58.5
10
14.5
12.5
12
13.5
4.5
M6x0.75P
GH25LH
23
18
60
20
11x9x7
35
50
M6x9
77.5
10
14.5
12.5
12
13.5
4.5
M6x0.75P
Dimension of GL-H

Model
Assembly dimension
Basic load rating
Static moment rating
Weight
Hight
H
Width
W
Length
L
W1
J
Dynamic
C
KN
Static
C0
KN
MP(KN-m)
MY(KN-m)
MR
(KN-m)
Carriage
kg
Rail
kg/m
1*
2*
1*
2*
GL15SH
24
34
41
9.5
4.5
7.8
9.4
0.04
0.28
0.04
0.28
0.08
0.09
1.28
GL15H
24
34
58.5
9.5
4.5
11.8
18.9
0.13
0.78
0.13
0.78
0.16
0.15
1.28
GL20SH
28
42
47
11
4.5
11.4
14.5
0.07
0.5
0.07
0.5
0.13
0.14
1.9
GL20H
28
42
72.2
11
4.5
19.8
31.9
0.28
1.64
0.28
1.64
0.32
0.28
1.9
GL25SH
33
48
55
12.5
6.5
18.6
24.4
0.15
1.06
0.15
1.06
0.28
0.24
2.64
GL25H
33
48
83.5
12.5
6.5
27.1
41.9
0.42
2.43
0.42
2.43
0.5
0.39
2.64
Model
Rail dimension
Carriage dimension
Width
WR
Hight
HR
Pitch
P
E std.
E
Hole Dimension
D X h X d
B
C
M X L
L1
T
H2
H3
N
N1
N2
Grease
Nipple Size
GL15SH
15
13
60
20
7.5x5.3x4.5
26
-
M4x5
21.5
7
5
4
5
10
3.5
M4x0.7P
GL15H
15
13
60
20
7.5x5.3x4.5
26
26
M4x5
39
7
5
4
5
10
3.5
M4x0.7P
GL20SH
20
15
60
20
9.5x8.5x6
32
-
M5x7
24
8
6.5
5
12
11.5
4.5
M6x0.75P
GL20H
20
15
60
20
9.5x8.5x6
32
32
M5x7
50
8
6.5
5
12
11.5
4.5
M6x0.75P
GL25SH
23
18
60
20
11x9x7
35
-
M6x8
34.5
9
7.5
5.5
12
13.5
4.5
M6x0.75P
GL25H
23
18
60
20
11x9x7
35
35
M6x8
58.5
9
7.5
5.5
12
13.5
4.5
M6x0.75P
Dimension of GH-W
Model
Assembly dimension
Basic load rating
Static moment rating
Weight
Hight
H
Width
W
Length
L
W1
J
Dynamic
C
KN
Static
C0
KN
MP(KN-m)
MY(KN-m)
MR
(KN-m)
Carriage
kg
Rail
kg/m
1*
2*
1*
2*
GH15W
24
47
58.5
16
4.5
11.8
18.9
0.13
0.78
0.13
0.78
0.16
0.18
1.28
GH20W
30
63
72.2
21.5
4.5
19.8
31.9
0.28
1.64
0.28
1.64
0.32
0.39
1.9
GH20LW
30
63
86.2
21.5
4.5
22.5
38.6
0.43
2.33
0.43
2.33
0.39
0.48
1.9
GH25W
36
70
83.5
23.5
6.5
27.1
41.9
0.42
2.43
0.42
2.43
0.5
0.58
2.64
GH25LW
36
70
102.5
23.5
6.5
33.3
55.8
0.74
3.95
0.74
3.95
0.65
0.76
2.64
Model
Model
Carriage dimension
Width
WR
Hight
HR
Pitch
P
E std.
E
Hole dimension
D X h X d
B
C
M X L
L1
T
H2
H3
N
N1
N2
Grease
Nipple Size
GH15W
15
13
60
20
7.5x5.3x4.5
38
30
M5x7
39
7.5
9
8
5
8
3.5
M4x0.7P
GH20W
20
15
60
20
9.5x8.5x6
53
40
M6x10
50
10
8.5
7
12
9.5
4.5
M6x0.75P
GH20LW
20
15
60
20
9.5x8.5x6
53
40
M6x10
64
10
8.5
7
12
16.5
4.5
M6x0.75P
GH25W
23
18
60
20
11x9x7
57
45
M8x10
58.5
10
14.5
12.5
12
13
4.5
M6x0.75P
GH25LW
23
18
60
20
11x9x7
57
45
M8x10
77.5
10
14.5
12.5
12
22.5
4.5
M6x0.75P